Our text this morning will be
Mark 10:32-45
. That passage reminds me, in a slight way, of a childhood visit to Clifty Falls State Park in Madison, IN. As the Clifty Creek runs into the Ohio River there are several waterfalls along its stretch. The two I remember are not cleverly named – Big Clifty and Little Clifty. Both are basically the same size, being right around 60', but their beauty compensated for their lack of cleverness. More than that natural beauty, I remember the creek's velocity as it accelerated towards each falls.
Likewise, as the earthly ministry of Jesus nears its climatic conclusion (the Passion Week is just around the corner) there is a frightening resolution about Jesus. Unique to Mark's account is the vividly detailed snapshot of this event. Mark 10:32 does not simply tell us that Jesus and the Twelve went up to Jerusalem. Instead we read that "Jesus went before them."
Going on Before
This is no leisurely stroll up to the holy city. Jesus purposefully strides ahead of His followers with an unwavering determination. His resolve intimidated the disciples; not because Jesus normally vacillated. Not at all! His followers were "amazed" and "afraid." They were unnerved by His unswerving commitment. They did not fully understand what was happening. We normally fear what we cannot fully explain it. But they sensed His commitment, and they could grasp that it required their commitment.
Jesus came down from heaven to do the will of the Father that sent Him. The "hour" that had been appointed in eternity past was fast approaching, and
Jesus had set His face like a flint
towards Jerusalem so that
He might accomplish His Father's will
. As Jesus marched towards Jerusalem
"He took again the twelve, and began to tell them what things should happen unto him."
Our Lord described for them, now for the third time, exactly what it meant for the Son of Man to be lifted up.
Join Us!
That will be the focus of our time together in worship. Join us at 11am. You may also follow along online.
Just a reminder that next week we will resume our Sunday school classes at 10am and SHinE schedule (10am-Noon on Sunday morning, 7pm on Wednesday night). The vans will return for runs on Sunday morning and Wednesday night, but for children only. No adults on the vans for a little while longer. We apologize for the inconvenience, but are being purposefully gradual as we re-establish our usual routine.
Read more...
---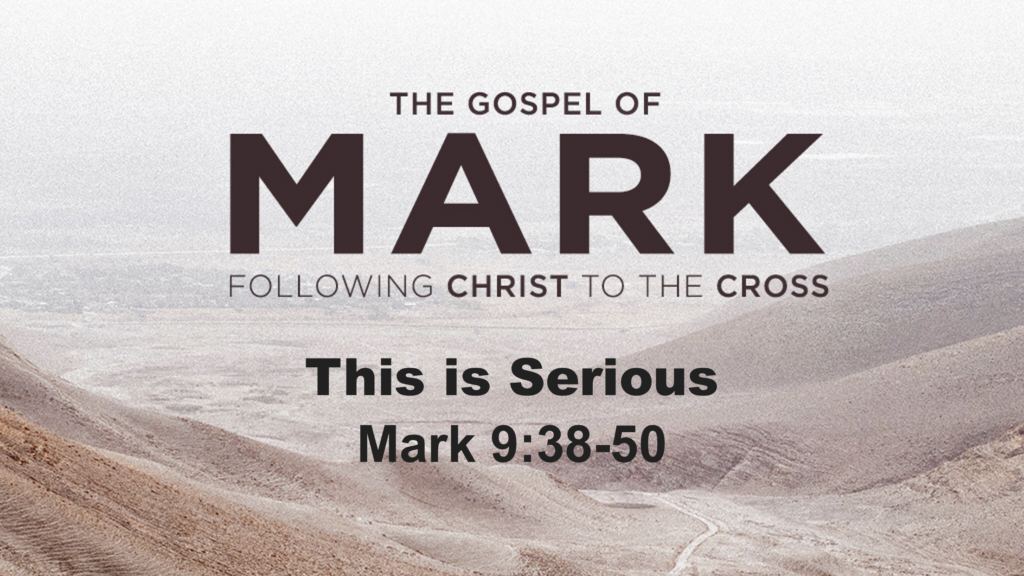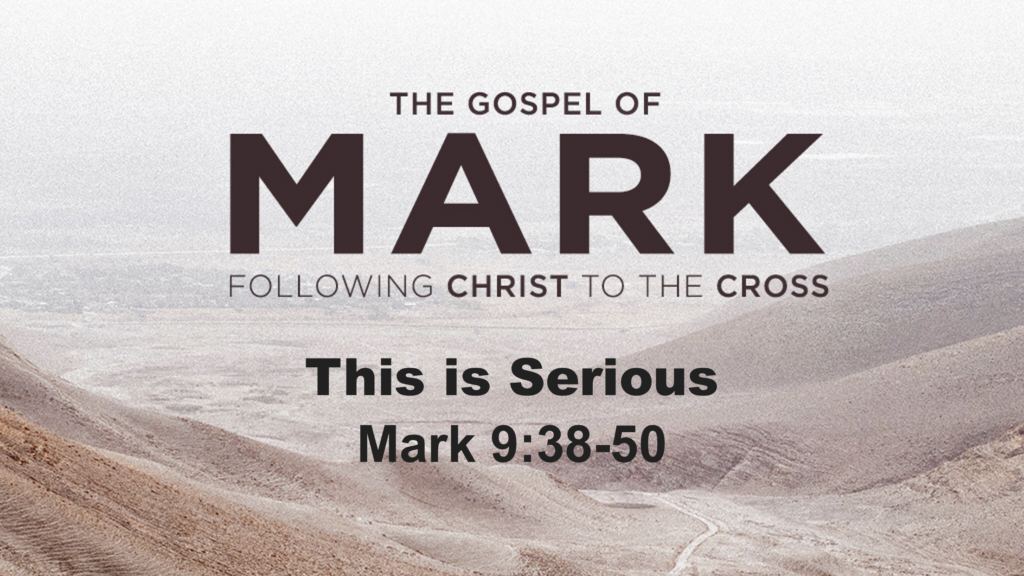 We are making our way through Mark on Sunday mornings. Today we will walk in
9:38-50
. As we work through this text we should learn about…
the folly of misplaced zeal,
the seriousness of discipleship,
the necessity to deal drastically with your own sin, and
the fact that we are called to be salty rather than sinful Christians.
"Our Lord's point is that unless we maintain the purity of our own lives and are purified by the flames of testing, and remain faithful to Christ, our lives will have no preserving influence on this corrupt world. If we begin to fall into the same patterns of life as those which are characteristic of the world, we will never be able to point men and women to another world."
Sin is serious. Discipleship is, too, and both must be treated as such. Dealing seriously with sin will enable continued spiritual growth. That will produce increased joy, no matter the circumstances. This is serious and for our joy.
Read more...
---