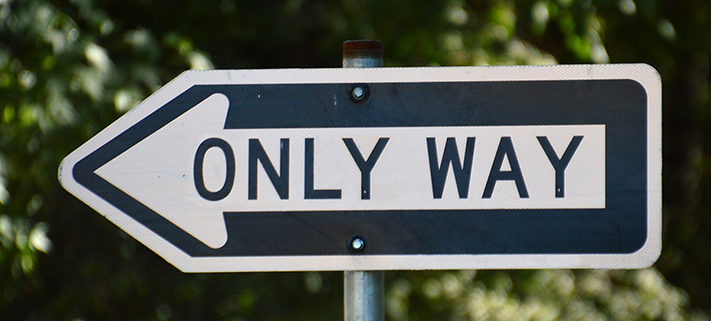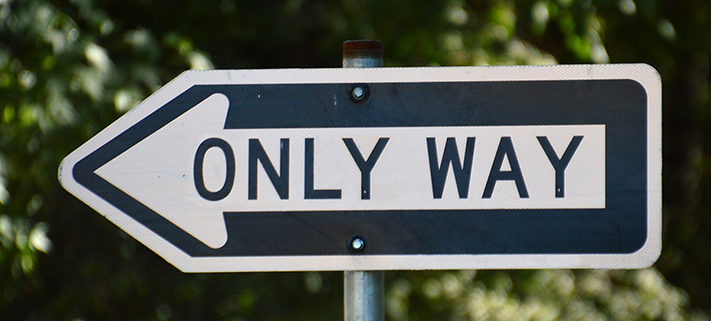 Would you drive from Mount Vernon to Louisville by heading to Harlan? Of course not. We all know that to get to the desired destination we have to take the right road. We have to go in the right direction.
The same thing is true of trying to get to heaven, yet many believe that all religions lead to God. The truth is that no religion leads to God!
In the Bible we read that:
Jesus said, "I am the way, the truth, and the life: no man cometh unto the Father, but by me."1
Despite the danger from the same religious leaders who had killed Jesus, Peter plainly preached that salvation is only in Jesus: "Neither is there salvation in any other: for there is none other name under heaven given among men, whereby we must be saved."2
Paul said, "For there is one God, and one mediator between God and men, the man Christ Jesus; who gave himself a ransom for all."3
The Apostle John said, "He that hath the Son hath life; and he that hath not the Son of God hath not life."4
The Bible is God's Word, and it makes clear that apart from Christ there is absolutely no way to the Father and no eternal life in heaven. Other religions offer systems of thought that cross the gap between men and God, but Jesus is the only One who has bridged that divide. Christ said "for wide is the gate, and broad is the way, that leadeth to destruction, and many there be which go in thereat."5 Only those who take the narrow way of Jesus Christ will find eternal life in heaven.
Jesus' Exclusive Claims
Jesus claimed: "I am the way." Jesus does not merely show a way to God, He is the only way to God. He spans the otherwise unreachable distance between a righteous God and unrighteous sinners like us.
Jesus claimed:
"
I am the truth."
Truth implies an objective standard that does not change like cultural fads or trends. Jesus Christ is "the same yesterday, and today, and forever."
6
Come to Him "and ye shall know the truth, and the truth shall make you free."
7
Jesus claimed:
"I am the life."
Without Jesus we are spiritually dead. But when we repent of our sins and believe on Jesus we are made spiritually alive. Scripture says, "He that believeth on him is not condemned: but he that believeth not is condemned already, because he hath not believed in the name of the only begotten Son of God."
8
Christ's resurrection from the dead was the absolute proof that He was indeed the Son of God, just like He said He was. He is the Light of the world that conquers sin, death, and the grave.
Rising from the dead proved that Jesus had paid the price of our sin. The resurrection proved that God the Father accepted the substitutionary sacrifice of God the Son. More evidence of Jesus' resurrection is that before He ascended back into heaven He met with over 500 of His followers to leave final instructions and encouragement (see 1 Corinthians 15:1-9).
There is no way to be saved but through Jesus Christ!
Religion—including the religion of atheism—cannot save or prepare one for eternity. The only way to be prepared is to repent of your sins and believe in Jesus, the One who gave His life in place of ours: "Christ also hath once suffered for sins, the just for the unjust, that he might bring us to God."9
Jesus is the way that must be taken, the truth that must be believed, and the life in which we must walk. Will you believe in the One who can—and will—bring you to God? Place your faith in Christ alone today. He promises, "him that cometh to me I will in no wise cast out."10
Bible references: 1John 14:6, 2Acts 4:12, 31Timothy 2:5-6, 41John 5:12, 5Matthew 7:13-14, 6Hebrews 13:8, 7John 8:32, 8John 3:18, 91 Peter 3:18, 10John 6:37
Bible Baptist Church exists to see unbelieving people become committed followers of Jesus Christ. If you have any questions about what you have read, or if there is any way in which we can minister to you, please contact us.
Read more...
---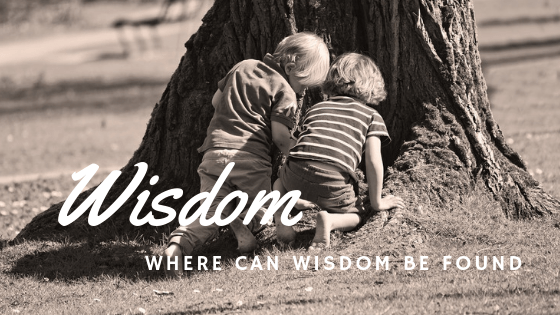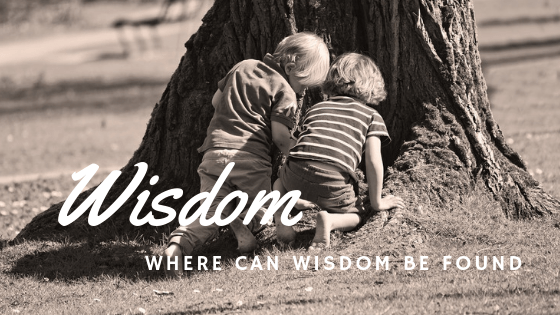 How do we develop a heart of wisdom? Well, it's not by invention, innovation, or perspiration but as a result of transformation. Psalm 111:10 says, "The fear of the Lord is the beginning of wisdom: a good understanding have all they that do His commandments: His praise endureth forever."
The fear spoken of here is not a groveling fear, where you're waiting for something horrible to happen, and wishing that it won't. Think of the fear of the Lord in the context of a father and son or daughter relationship, but instead of the child fearing what his father will do to him if he steps out of line, this is fearing what I will do to my Father as a result of being foolish instead of wise.
Biblically speaking, foolishness has nothing to do with education or intellectual capabilities. In scripture, unbelief is what marks a fool. "The fool hath said in his heart, there is no God, they are corrupt, they have done abominable works, there is none that doeth good" Psalm 14:1, and the characteristics of a fool are living apart from and against the truth of scripture.
Life is brief. That hasn't changed because of the coronavirus, but that has highlighted life's frailty and brevity. We must take advantage of our limited time, for worship and service to the eternal God. Life is an opportunity we must use wisely, and that wisdom is found first in trusting the eternal God to rescue you from your sins. Sins which pay eternal wages.
Redeeming the Time
Ephesians 5:15-17 reads as follows: "See then that ye walk circumspectly [that means with situational awareness; careful attention], not as fools, but as wise, redeeming the time, because the days are evil. Wherefore be ye not unwise, but understanding what the will of the Lord is."
Wisdom is found in understanding and following God's will, and it's God's will that people should be…
Spirit-filled – Ephesians 5:18, "And be not drunk with wine, wherein is excess; but be filled with the Spirit." This means being led of the Spirit and will be marked by joyfulness.
Submissive – 1 Peter 2:13-15; Hebrews 13:17. Submission requires sacrifice and is to be joyfully rather than grudgingly offered. Colossians 3:23, "And whatsoever ye do, do it heartily, as to the Lord, and not unto men;"
Sanctified – 1 Thessalonians 4:3-8; Romans 12:1-2; 1 Corinthians 6:15-20. This means living a life set apart from this world and to the glory of Christ. That kind of existence will not be perfectly lived, but is one primarily directed towards Jesus. That life looks like this:

Consistent joy – 1 Thessalonians 5:16
Continual prayer – 1 Thessalonians 5:17
Comprehensive thanksgiving – 1 Thessalonians 5:18

Suffering – 1 Peter 2:20-21; 3:17; 5:10. This is part, a regular and sometimes big part, of God's will for our lives, and Jesus is our ultimate example in all this.
Read more...
---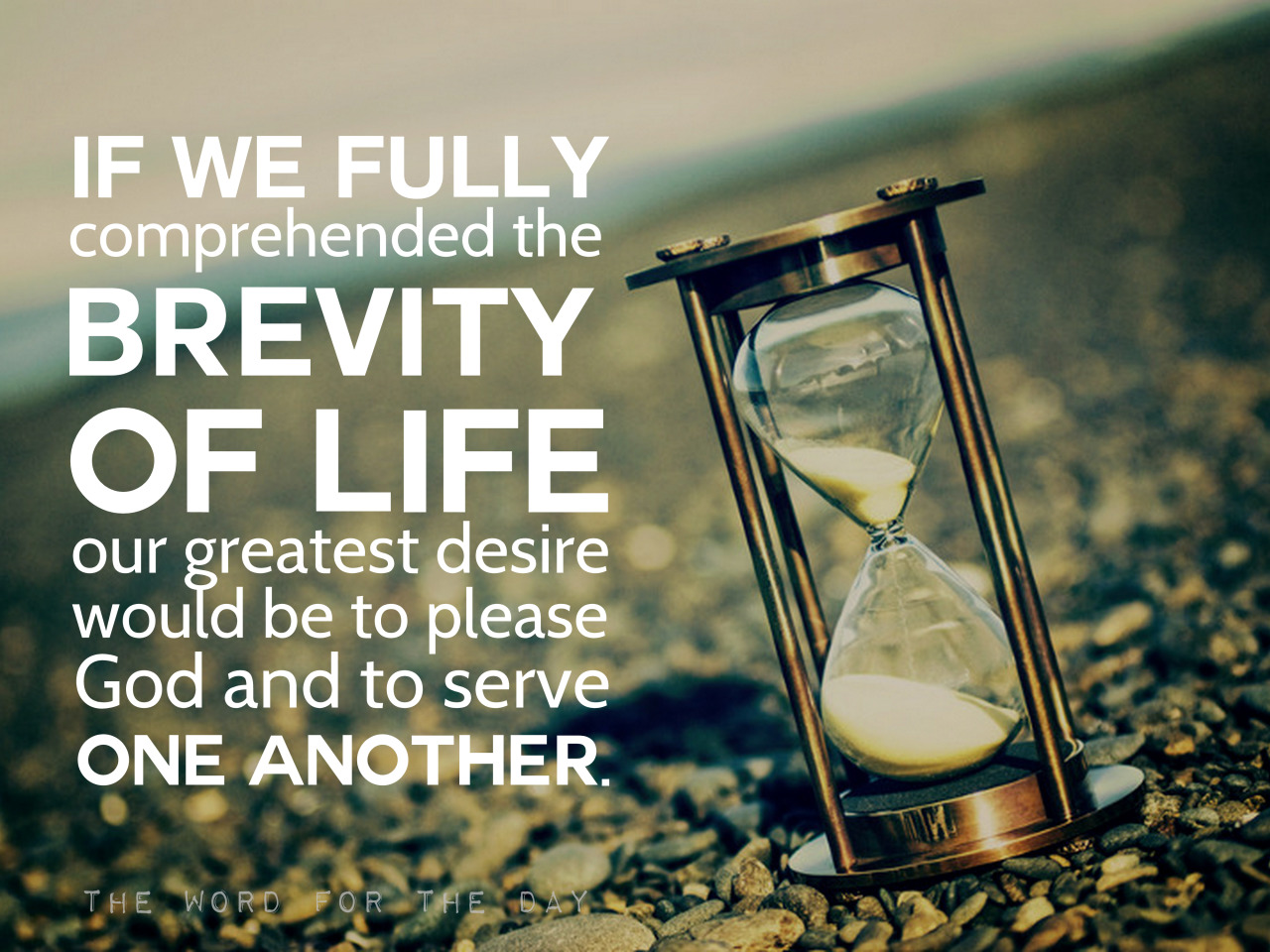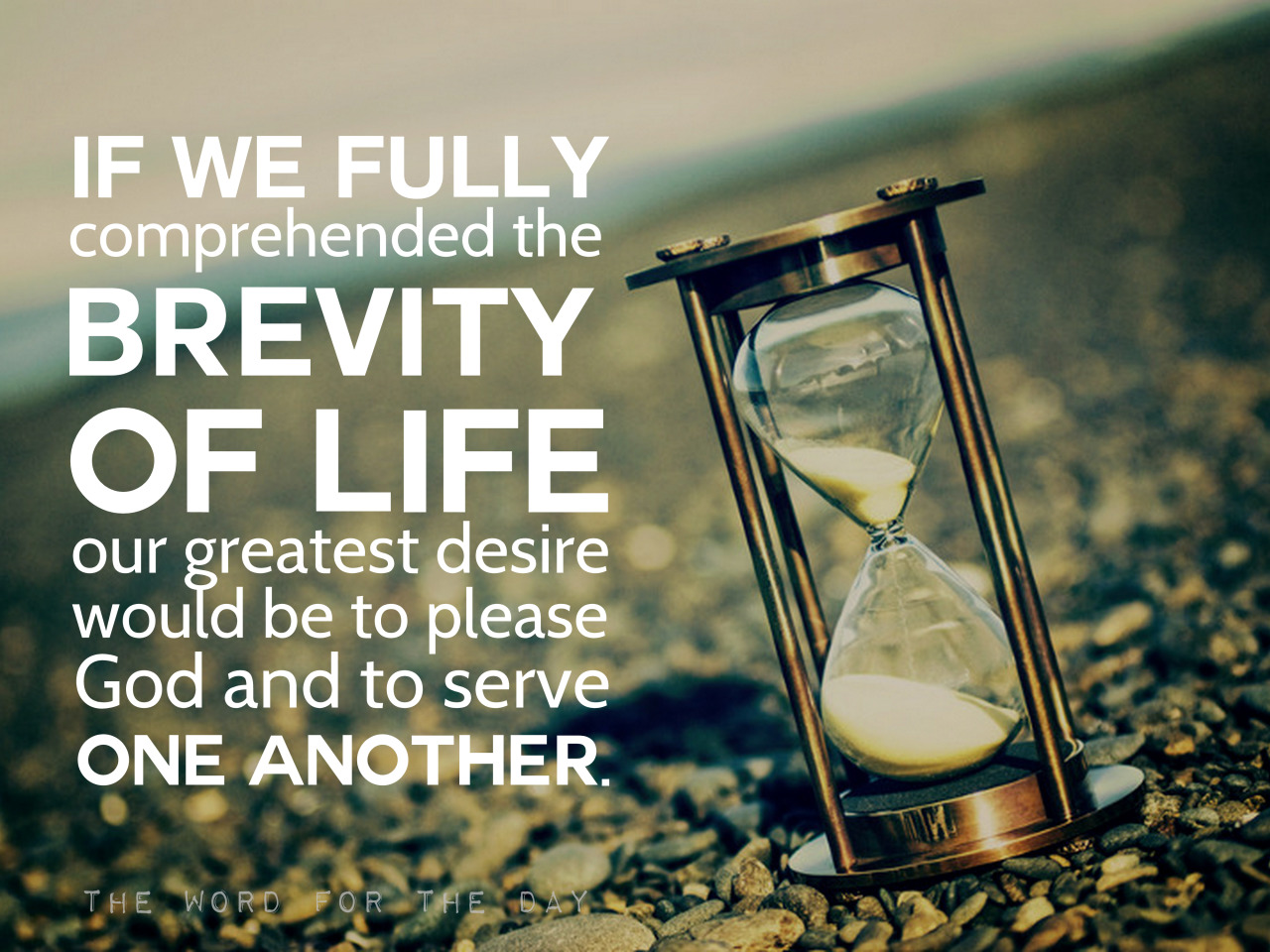 Psalm 90:12, "So teach us to number our days, that we may apply our hearts unto wisdom."
Let's play a word association game. Finish this sentence: "It's about time for _____________."
I'm thinking it's about time for COVID-19 to go away. That cannot happen fast enough. In the meantime, this is another opportunity to learn patience and to trust God no matter what. I need to make the most of this time. How about you?
Life is all about time. Do you waste time? Do you manage time or does time manage you? We can be careless with the time we have. We can also be slaves to the clock, thinking that our time is more important than the people around us or God above us.
Time is Precious
Time is precious. Back in 1971 Jim Croce wrote a song that would top the charts. Time in a Bottle was written about and for his firstborn son.
"If I could save time in a bottle, the first thing that I'd like to do, is to save every day till eternity passes away, just to spend them with you. If I could make days last forever, if words could make wishes come true. I'd save every day like a treasure and then again, I would spend them with you."
Those are beautiful words, and understandable coming from a 28 year old singer/songwriter who just learned he was going to be a dad for the first time. But there is another line from that song we need to consider: "But there never seems to be enough time to do the things that you want to do."
Many of us would agree with that. Croce knew that time was a fleeting commodity, but he didn't know how fleeting. On the last day of September in 1973 Jim Croce died in a plane crash. He was 30 years old. His son had just turned two.
We all know that time is short, but it's shorter than we know. None of us have time to waste.
Life is Brief. God is Eternal
The first four words of the Bible are, "In the beginning God…" At the start He was already there. He began the beginning. Psalm 90:2 says, "Before the mountains were brought forth, or ever thou hadst formed the earth and the world, even from everlasting to everlasting, thou art God." Humanity, in comparison, is described in verse 10, "The days of our years are threescore years and ten; and if by reason of strength they be fourscore years, yet is their strength labour and sorrow; for it is soon cut off, and we fly away."
Life is brief. God is eternal. We need His wisdom to number our days, because while this life is short, we will all live somewhere forever, and we can't save time in a bottle. We each have 86,400 seconds a day deposited into our "time accounts." We cannot carry over the balance, and we cannot be overdrawn. Whatever is not wisely used is lost forever.
Redeem the Time
If you search for our feed on Vimeo use "bbc church." If you search for us on YouTube use "Bible Baptist Church, Mt. Vernon."
All of these options are available because we want to make it easy for you to follow along. Please set aside the time to tune in at 7 pm. Have your Bibles open.
Read more...
---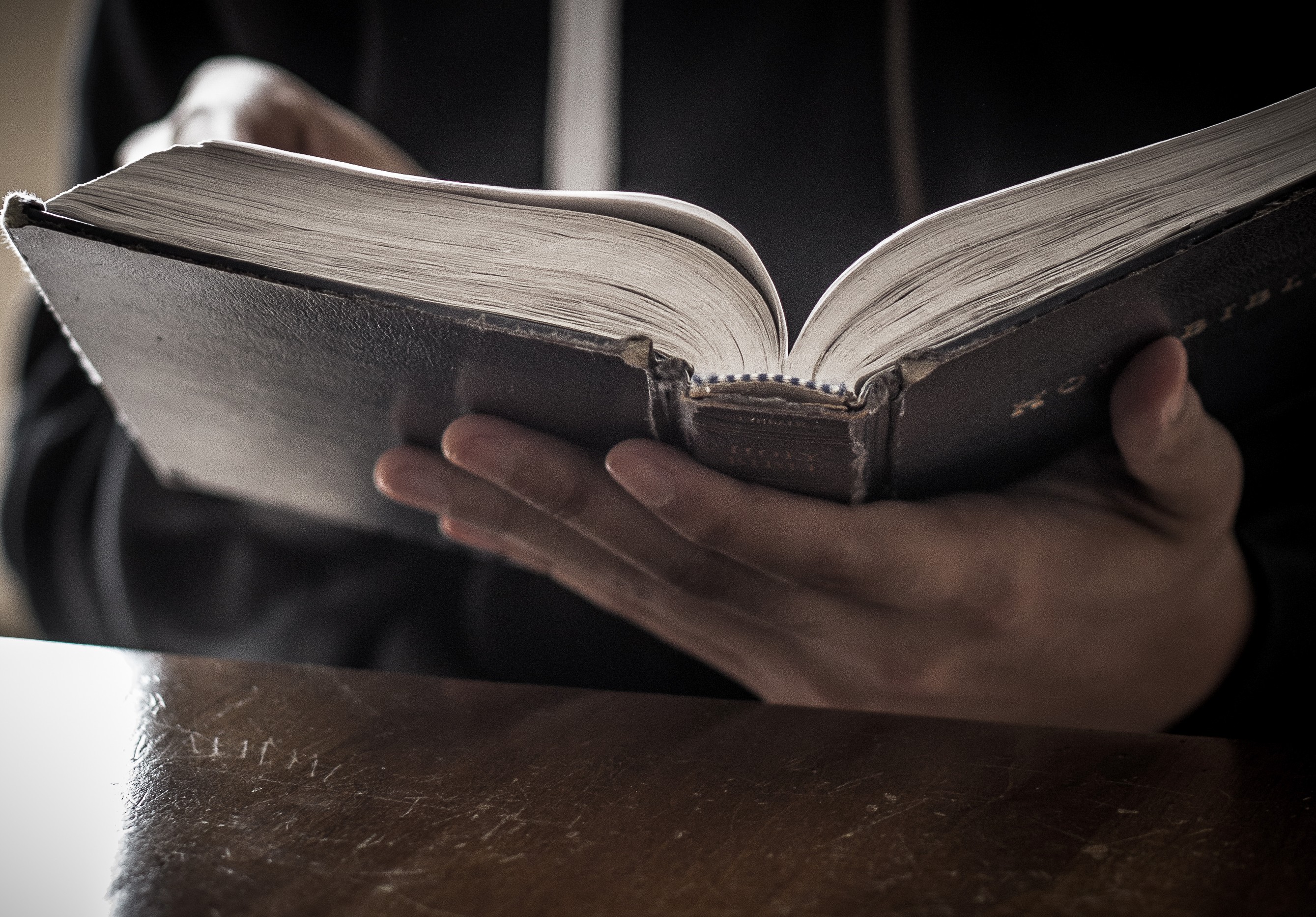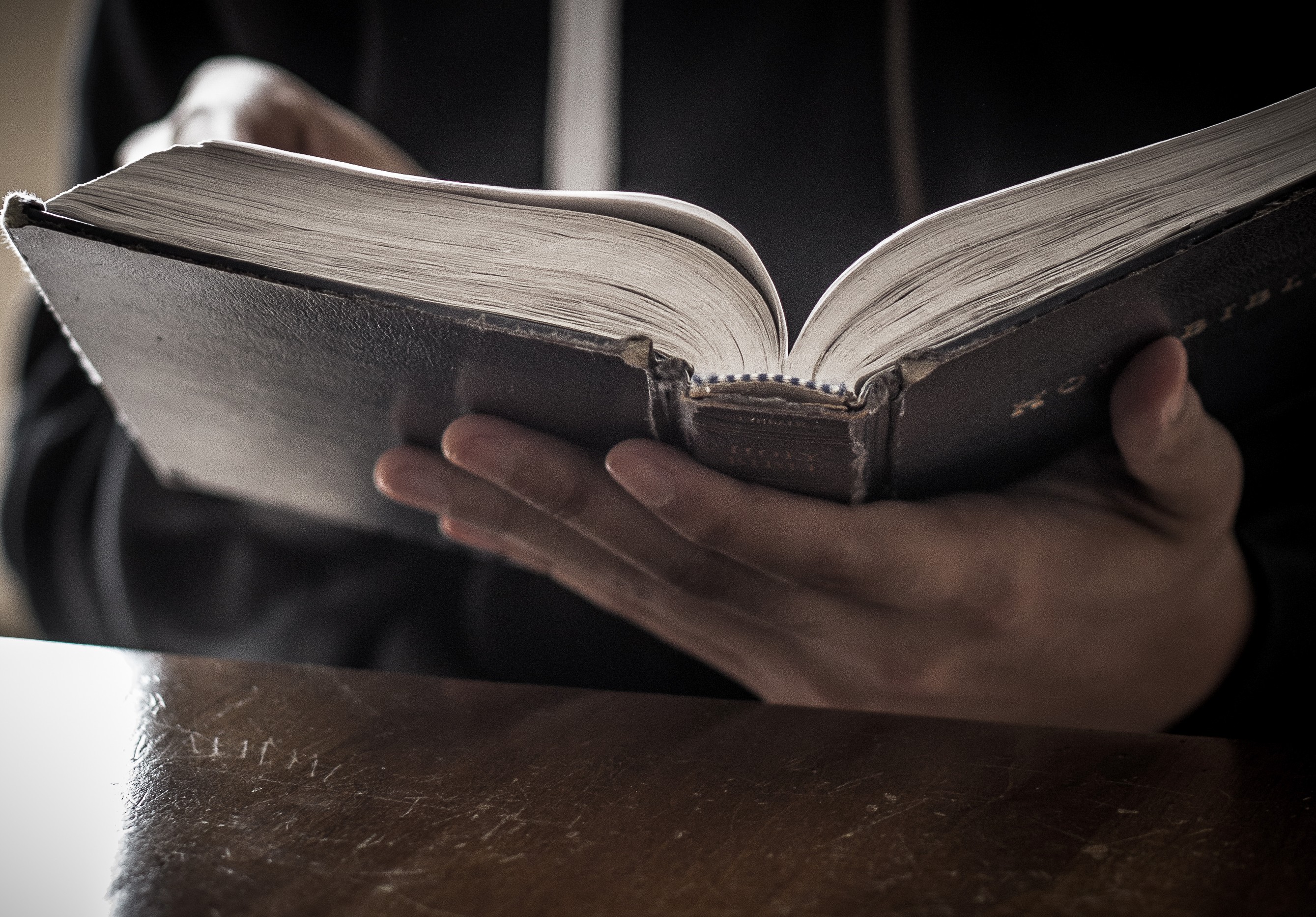 Psalm 91:15, "He shall call upon me, and I will answer him: I will be with him in trouble; I will deliver him, and honor him."
"I will never leave you nor forsake you," is a precious promise from God to His people (Deuteronomy 31:6; Joshua 1:5; Hebrews 13:5). Based on the strength of such a promise we trust God enough to call upon Him in prayer, because we are confident that He will answer. When we are in trouble for His name's sake, when we call upon our Lord, He will deliver and honor His people. We have not only His word on the matter, but He has proven Himself true time and time again. The God of the Bible is the only deity who hears, answers, and delivers His people. Trust Him no matter what, and call on Him always.
Read more...
---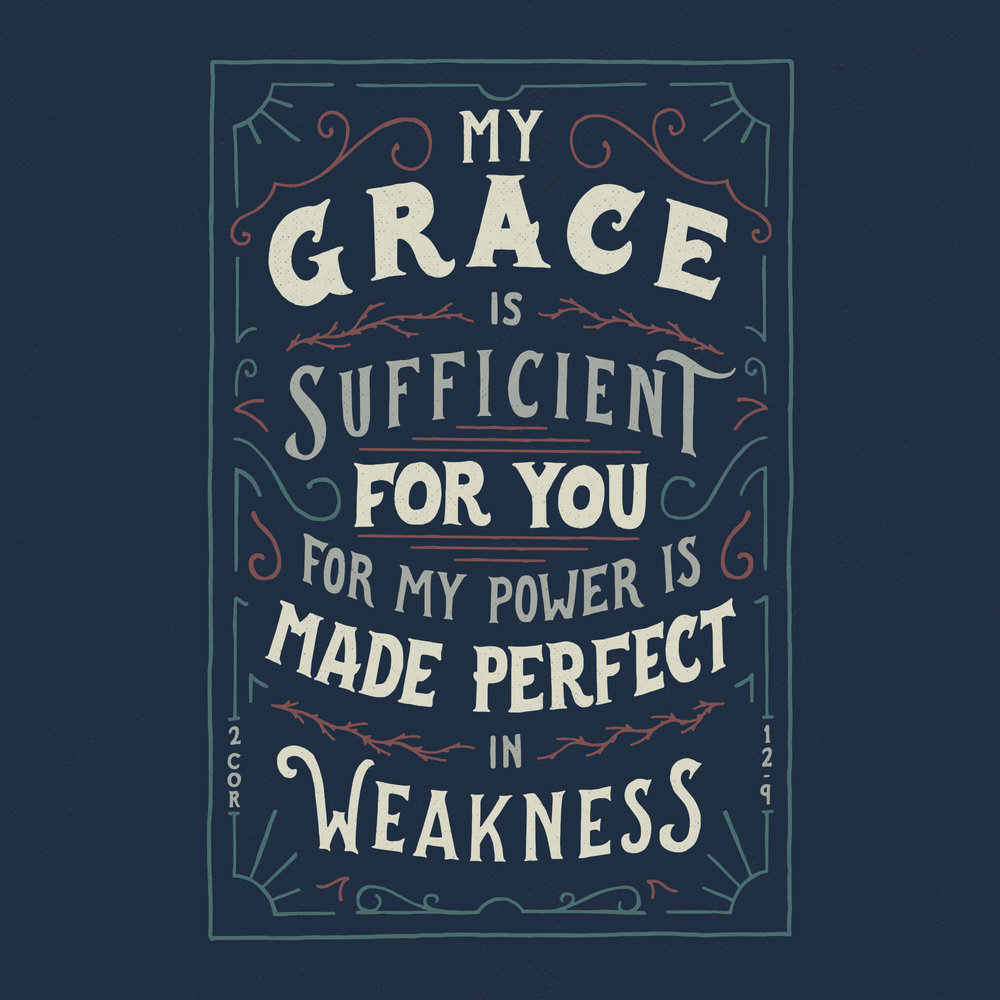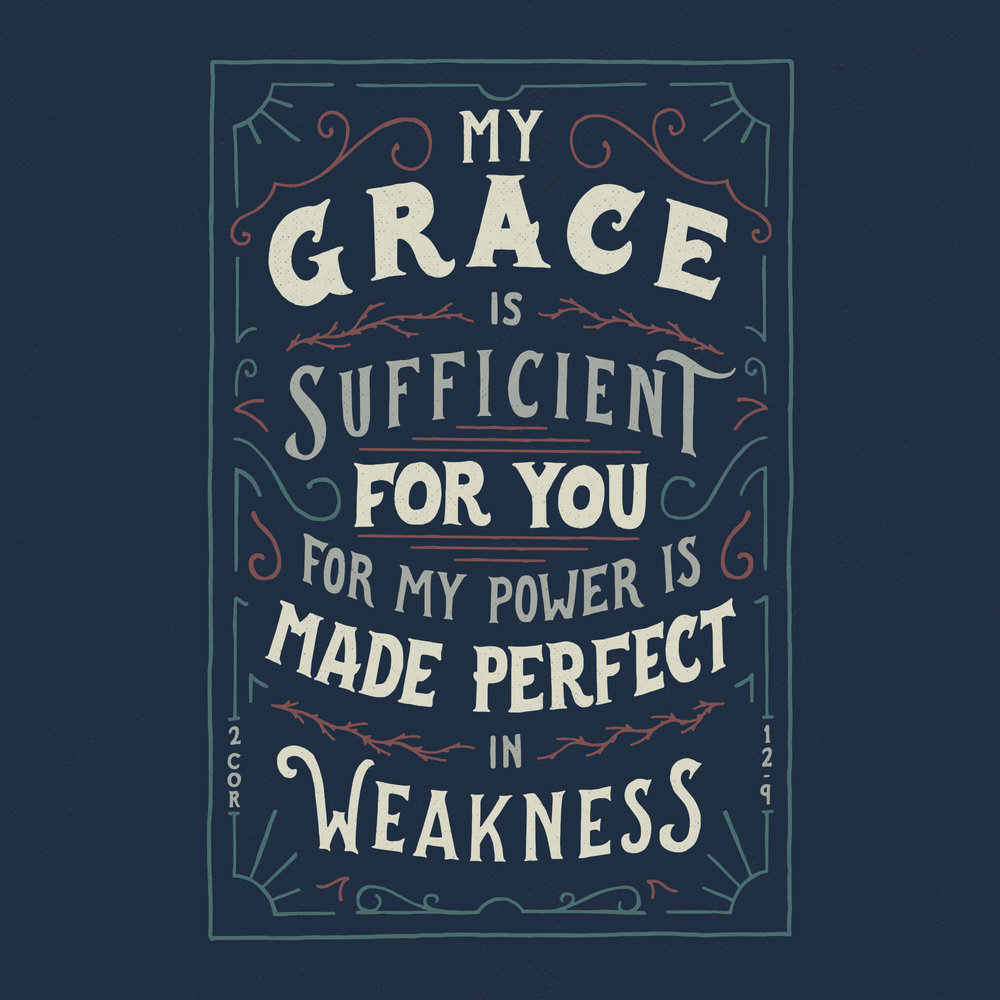 2 Corinthians 12:8-9, "For this thing I besought the Lord thrice, that it might depart from me. And he said unto me, My grace is sufficient for thee: for my strength is made perfect in weakness. Most gladly therefore will I rather glory in my infirmities, that the power of Christ may rest upon me."
Paul wanted his affliction removed. He repeatedly prayed that way. It remained. God never offered an explanation, but He did make a promise. "My grace is sufficient." God's grace enables His strength to be made perfect through our weakness. There will be times when God does not remove affliction. Instead, He gives grace so that the affliction works for rather against the believer. Believers live on grace rather than explanations. God's grace will provide for our every need when needed. God's grace is sufficient to save us from our sins and sustain us in our suffering. Our feelings change. Trust the promise of…
God's
Riches
Available at
Christ's
Expense.
God's truth is timeless. His promises never change. His grace is always sufficient. It's the power of weakness.
Read more...
---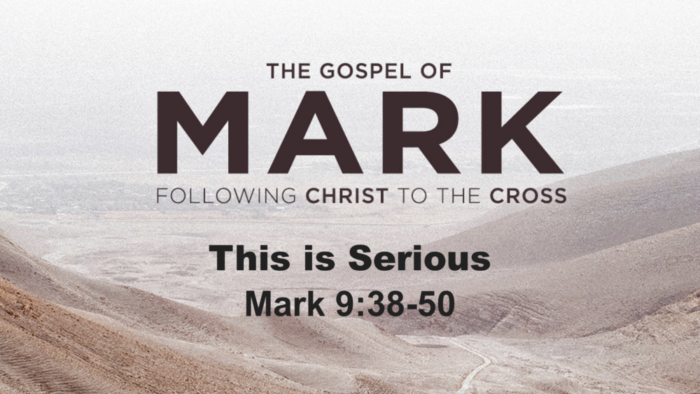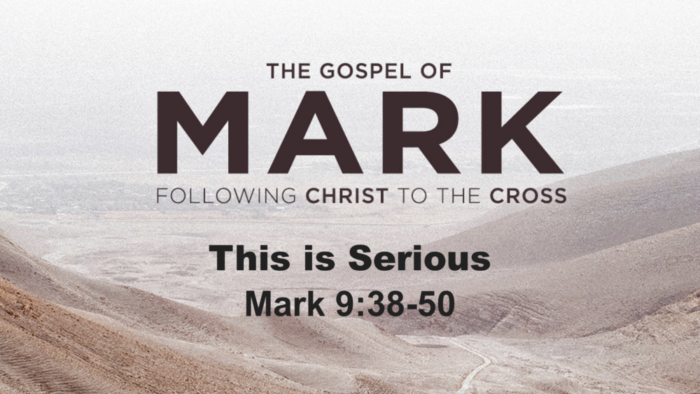 We are making our way through Mark on Sunday mornings. Today we will walk in
9:38-50
. As we work through this text we should learn about…
the folly of misplaced zeal,
the seriousness of discipleship,
the necessity to deal drastically with your own sin, and
the fact that we are called to be salty rather than sinful Christians.
"Our Lord's point is that unless we maintain the purity of our own lives and are purified by the flames of testing, and remain faithful to Christ, our lives will have no preserving influence on this corrupt world. If we begin to fall into the same patterns of life as those which are characteristic of the world, we will never be able to point men and women to another world."
Sin is serious. Discipleship is, too, and both must be treated as such. Dealing seriously with sin will enable continued spiritual growth. That will produce increased joy, no matter the circumstances. This is serious and for our joy.
Read more...
---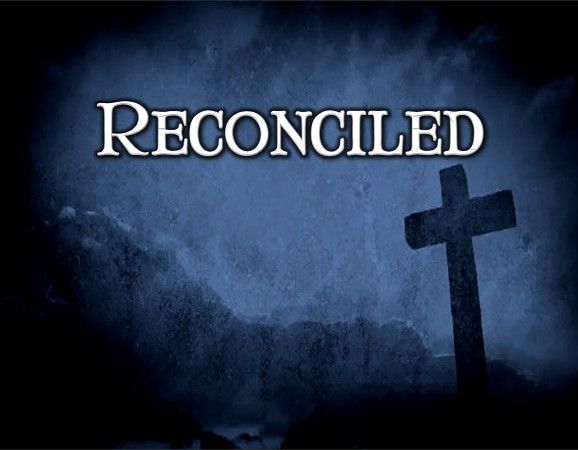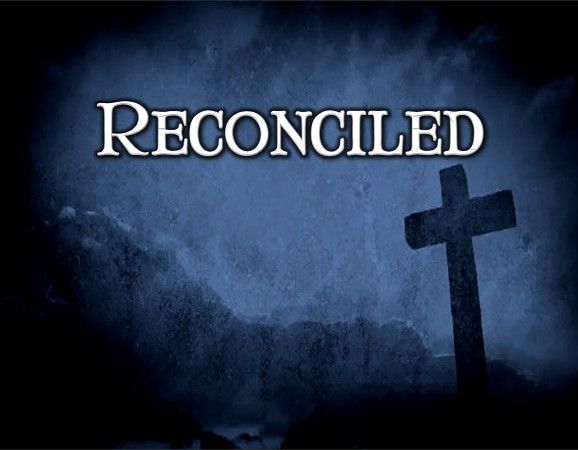 2 Corinthians 5:20, "Now then we are ambassadors for Christ, as though God did beseech you by us: we pray you in Christ's stead, be ye reconciled to God."
Those who have trusted the Lord Jesus as their Savior are not only saved but are ambassadors of their Lord and Savior. An ambassador is an authorized representative who speaks not in his own name but on behalf of another. We who have trusted Christ have been empowered and tasked with the joyous responsibility to faithfully proclaim the promises of the gospel and urge sinners to be reconciled to God through Christ alone. We have no other message and serve no other purpose. May we represent our Lord well, so that others may trust Christ and be reconciled to God.
Read more...
---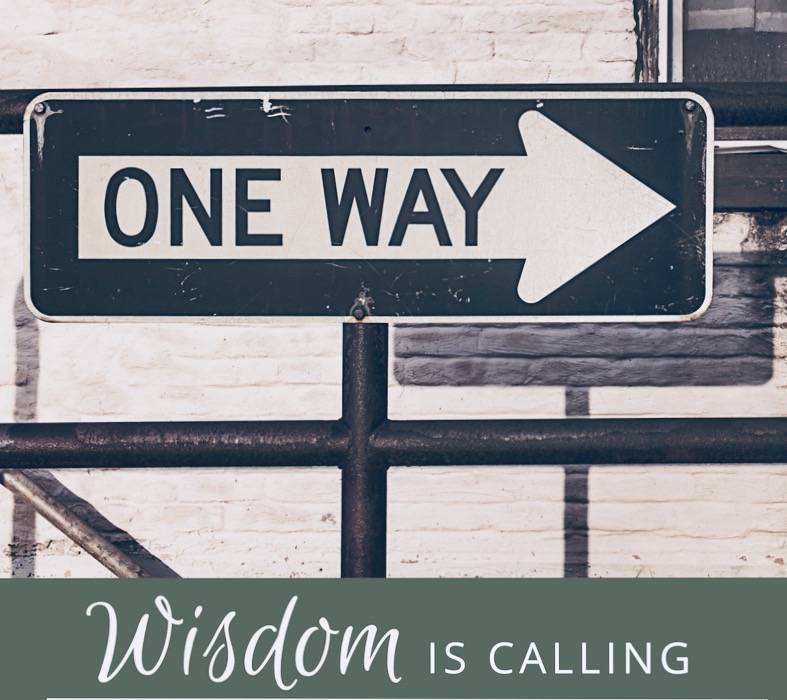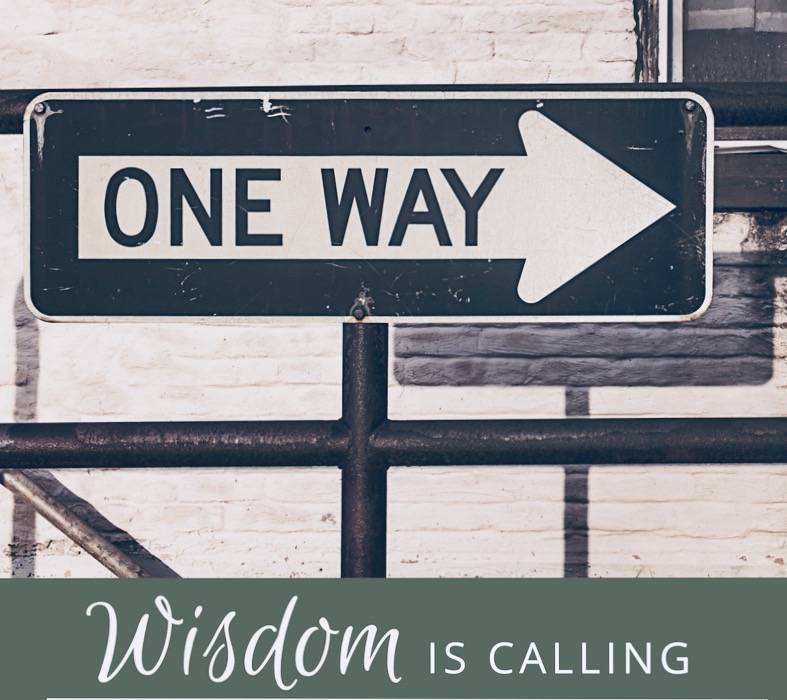 Proverbs 8:1-3, "Doth not wisdom cry? and understanding put forth her voice? She standeth in the top of high places, by the way in the places of the paths. She crieth at the gates, at the entry of the city, at the coming in at the doors."
Here wisdom is personified and in the streets, calling all sinners to follow God's path that leads to life rather than death, the truth that leads to wealth rather than poverty. Hear and heed the Lord Jesus, and gain true wisdom and wealth. He is not stingy with either one. Being a fool, now that is hard work. Fools purposefully ignore and evade wisdom, turning away from the truth, but not because it can't be found. Wisdom calls out in the street. Be wise. "If ye will hear His voice, harden not your hearts" (Hebrews 4:7) and trust that voice of love and wisdom from this day forward.
Read more...
---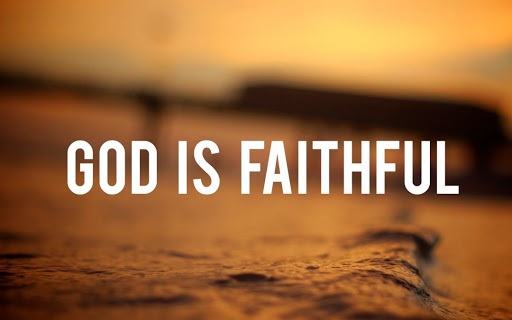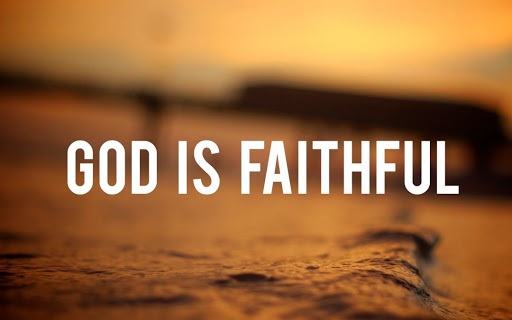 Lamentations 3:22-24
, "
It is of the

Lord

's mercies that we are not consumed, because his compassions fail not.
They are new every morning: great is thy faithfulness.
The

Lord

is my portion, saith my soul; therefore will I hope in him."
This is a blessed and TIMELESS TRUTH. God is faithful. Faithfulness describes His character. Paul stated at the beginning of 1 Corinthians, "God is faithful, by whom ye were called unto the fellowship of His Son Jesus Christ our Lord. "Faithful is He that calleth you, who also will do it" is how Paul ended 1 Thessalonians. Man is regularly faithless. God is utterly faithful. God never changes with the circumstances or the times. Man does. God never wakes up on the wrong side of the bed. Man does. God is always reliable all of the time. Man isn't. Have faith in God, not man.
Live-streaming at 7pm tonight
The faithfulness of God will be the focus of our Bible study this evening at 7pm. The continuing restrictions surrounding the COVID-19 pandemic means this study will be live-streamed only.
Click here to view the live-stream
. This evening's text will be Lamentations 3:22-24, a familiar, well-loved passage, and for good reason. One of the greatest hymns of all time –
Great Is Thy Faithfulness
– is based on this text. God's faithfulness is one of the most treasured of His TIMELESS TRUTHS.
Until then…
At 7pm tonight, have your Bible open to Lamentations 3, and be logged on to the live-stream. Until then, think on this.
God's faithfulness is
… (click link to open a page with all the scriptures listed below)
Incomparable – Psalm 89:8
Impeccable – 2 Timothy 2:13; Psalm 89:33
Infinite – Psalm 36:5
Indestructible – Psalm 119:89-90
Unbreakable – Deuteronomy 7:9
Available – 1 John 1:9
Durable – 1 Corinthians 10:13
Dependable – 1 Peter 4:19
Read more...
---