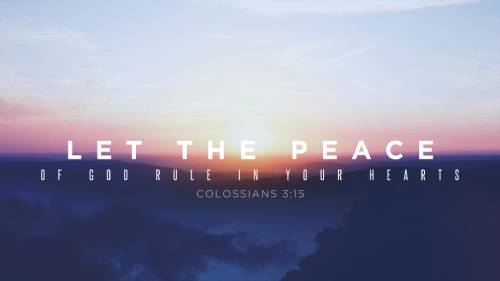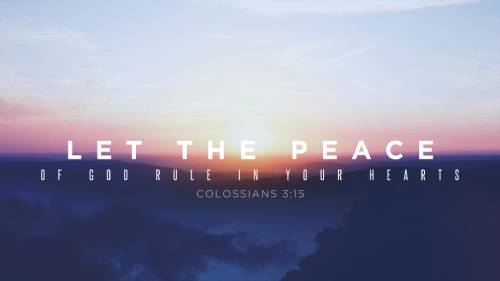 Colossians 3:15-17 says, "And let the peace of God rule in your hearts, to the which also ye are called in one body; and be ye thankful. Let the word of Christ dwell in your richly in all wisdom; teaching and admonishing one another in psalms and hymns and spiritual songs, singing with grace in your hearts to the Lord. And whatsoever ye do in word or deed, do all in the name of the Lord Jesus, giving thanks to God and the Father by him."
That passage plays a prominent role in
this week's bulletin
, and also in last Wednesday's sermon. Why the repetition? Due to the fact that we need to be called to trust the Timeless Truths of Holy Spirit-rooted peacefulness and thankfulness during these troubling times.
The hardest aspects of 2020 have not been the SARS-CoV2 virus or the contentious and now contested election. Our response to those things is the issue. The virus and the election are important, but most importantly they are opportunities for us to demonstrate that we really believe what we believe is true. Letting the peace of God rule in our hearts and being thankful in everything does not mean our heads are buried in the sand or that we are uninvolved. It does mean we are ruled by faith rather than fear and we live that faith in an inviting rather than uninviting manner.
Knowing truth is not as difficult as living truth. Praise God we have the "Spirit of truth…who will guide [us] into all truth" (John 16:13). Follow Him. Not the news. Not your fear. Follow Christ Jesus.
Read more...
---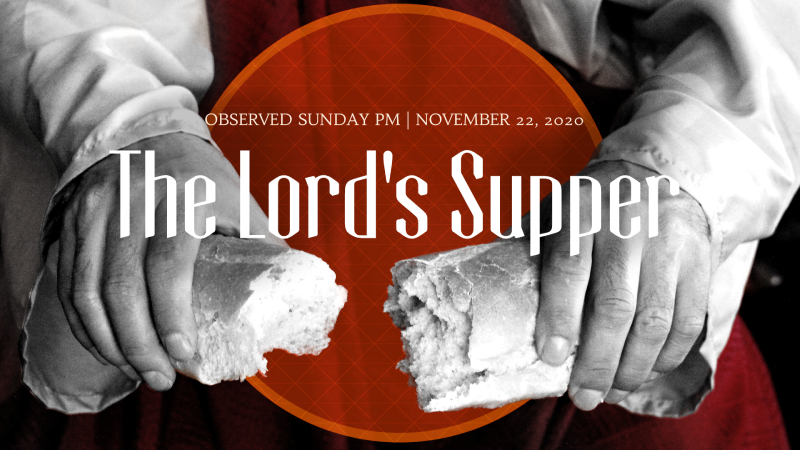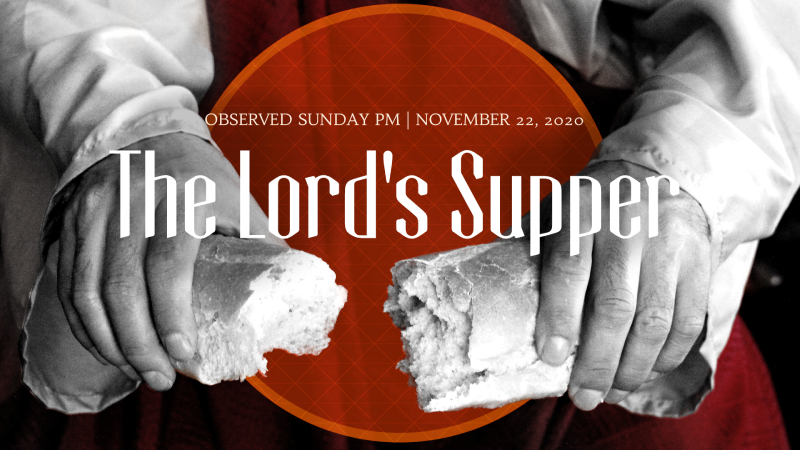 On the evening of November 22, at six o'clock, we will observe the Lord's Supper. We will take precautions to guard the health of all who participate. In the last three years we have taken communion on the Sunday before Thanksgiving and the Thursday before Easter. This year, due to the lockdown, we were unable to come together to the Table at Easter. This means we have not observed this solemn ordinance in a year. We should not wait longer to memorialize our Lord's sacrifice, as He commanded us to do.
Read more...
---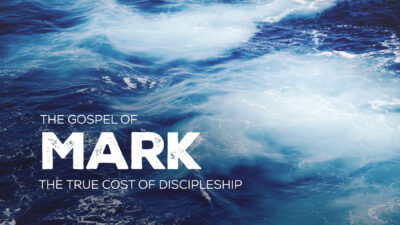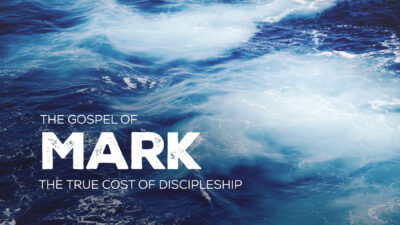 Enjoy tonight's extra hour of sleep. We should all be fresh and well rested tomorrow for church! Our text will be Mark 14:12-21. We will go from supper at Simon the Leper's house to the Last Supper in the upper room. We are just hours away from Judas' betrayal and Jesus' crucifixion. As always, the Master is in control of the situation. All of it. We look forward to seeing you tomorrow. Sunday school is at 10am and the worship begins at 11am.
Also, don't forget that tonight from 6-8pm on the church parking lot is our Trunk or Treat event.
Read more...
---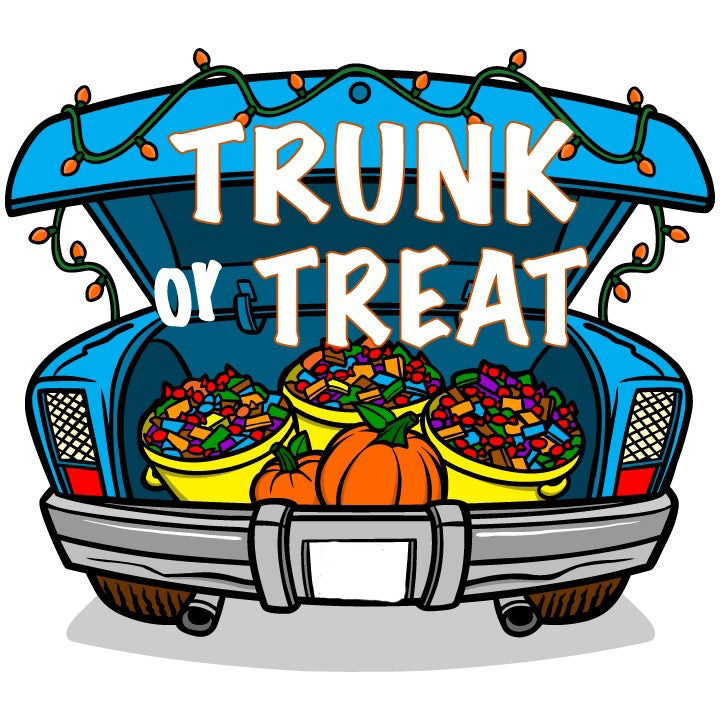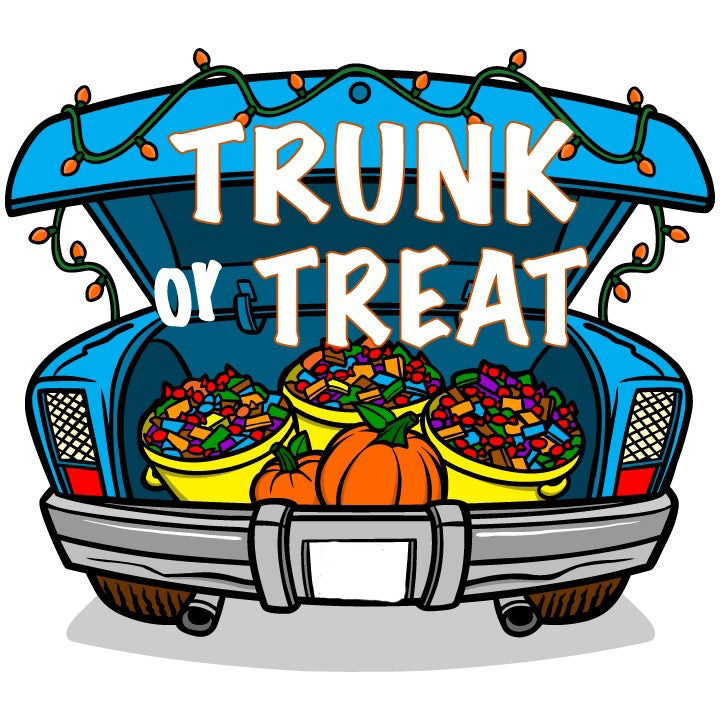 You are invited and encouraged to join us this Saturday, October 31 from 6 pm – 8 pm for Trunk or Treat. This event will be held on our parking lot at 100 Higher Ground Lane, Mount Vernon, KY 40456. Just drive through the line. Meet some Bible characters. Grab a lot of goodies. Don't miss out.
Read more...
---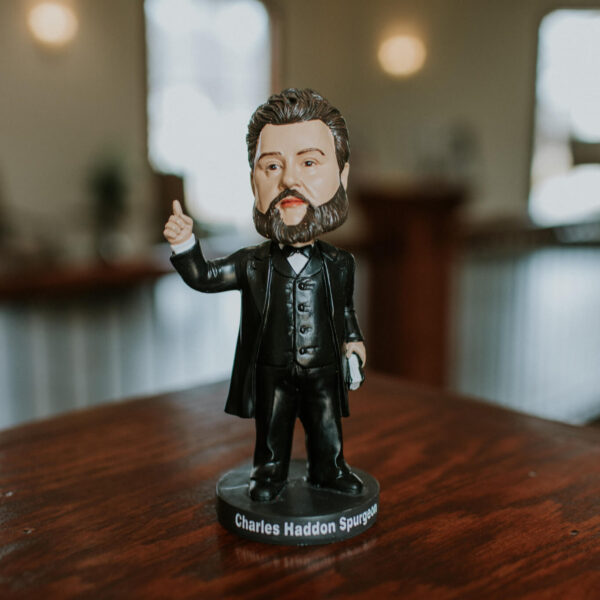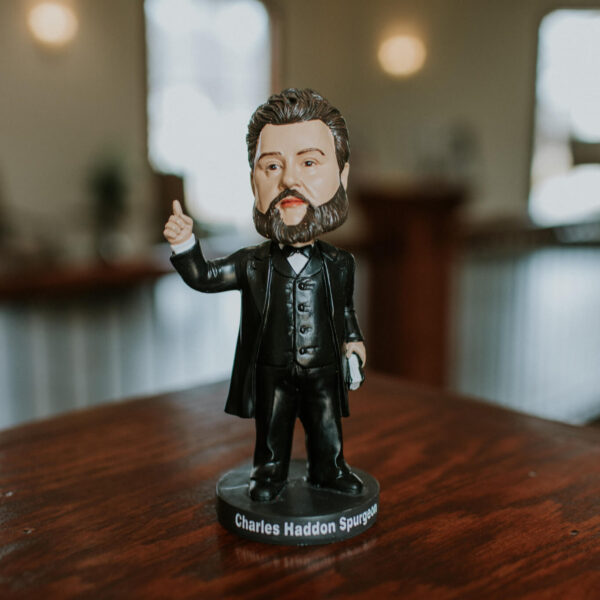 Speak What He Teaches
"Now therefore go, and I will be with thy mouth, and teach thee what thou shalt say" Exodus 4:12
Many a true servant of the Lord is slow of speech, and when called upon to plead for his Lord, he is in great confusion lest he should spoil a good cause by his bad advocacy. In such a case it is well to remember that the Lord made the tongue which is so slow, and we must take care that we do not blame our Maker. It may be that a slow tongue is not so great an evil as a fast one, and fewness of words may be more of a blessing than floods of verbiage. It is also quite certain that real saving power does not lie in human rhetoric, with its tropes, and pretty phrases, and grand displays. Lack of fluency is not so great a lack as it looks.
If God be with our mouth, and with our mind, we shall have something better than the sounding brass of eloquence, or the tinkling cymbal of persuasion. God's teaching is wisdom; His presence is power. Pharaoh had more reason to be afraid of stammering Moses than of the most fluent talker in Egypt; for what he said had power in it; he spoke plagues and deaths. If the Lord be with us in our natural weakness we shall be girt with supernatural power. Therefore, let us speak for Jesus boldly, as we ought to speak.
Read more...
---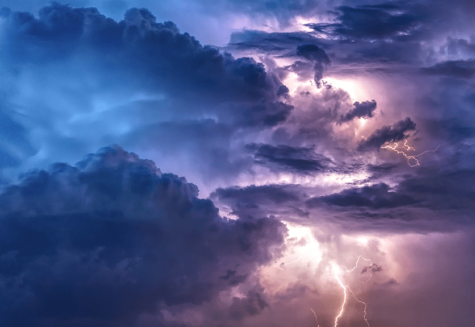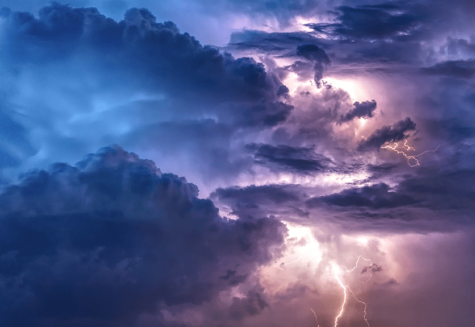 This evening we return to the book of Daniel, and we will fins ourselves in
chapter 10
. This is one of the most fascinating chapters, not just in Daniel, but in all of scripture. Daniel 10 pulls back a curtain. We are given a glimpse of cosmic conflict. The scene is truly amazing. It also calls to mind Ephesians 6:12. There we read that "We wrestle not against flesh and blood, but against principalities, against powers, against the rulers of the darkness of this world, against spiritual wickedness in high places."
There is a pit to avoid here, however, and that is to miss the point of this passage. We may easily be caught up with talk of Michael the archangel, the (demonic) princes of Persia and Greece, and become so focused on these truly amazing scenes that we miss the majesty of Christ and the power of His Word. Let's learn all that scripture has to say in this chapter, but let's guard ourselves against running down dead-end paths.
The point of this passage is not angelic being or warfare. We will not study this chapter to tickle spiritual fantasies or raise unanswerable questions. Our focus will be the timeless truth that Daniel has recorded under the Holy Spirit's inspiration. Once we learn and live that truth, God will be glorified and we will be strengthened to accomplish His work. See you tonight at 7pm.
SHinE Kids and G.O.E. Teens will also meet at 7pm in the Family Life Center.
Read more...
---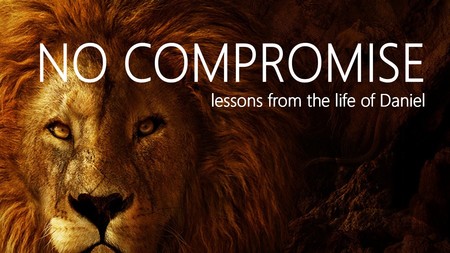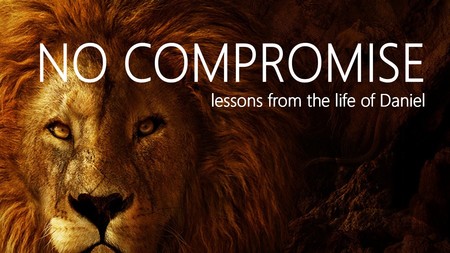 In his book
The Handwriting on the Wall
, Dr. David Jeremiah tells the story of Leopold Cohn. He was a Jewish man born in Berezna, Hungary, in 1862. Cohn became a rabbi. The focus of his studies centered on the Messiah's identity and coming. He wanted to know when the scattered people of Israel would be regathered to the Promised Land under the Messiah's rule. His search led him to the prophecy of the seventy weeks from
Daniel 9:24-27
.
On the basis of verses twenty-five and twenty-six specifically, Cohn concluded that the Messiah has already come. This new conviction confounded Cohn and created conflict with other rabbis. Eventually, Cohn took his family and left Hungary for the United States. Maybe that was because he wanted to immigrate to land of religious freedom, or because one fellow rabbi had told him that while he didn't know where the Messiah was, he thought Cohn should look in New York City! Maybe both of those reasons are right. At any rate, once in NYC, on one Sabbath morning Cohn walked past the open door of a building that was adorned with the cross as well as a sign, written in Hebrew, that said "Meeting for Jews." He entered. Found a seat. Heard the preacher proclaim that Jesus Christ is the Messiah. He was given a New Testament in Hebrew. Back home around eleven that morning, Cohn opened the book and began reading at the beginning. "The book of the generation of Jesus Christ [Yeshua the Messiah], the son of David, the son of Abraham" Matthew 1:1. He read until one-o'clock the following morning, at which time Rabbi Leopold Cohn committed himself to Jesus of Nazareth as the Jewish Messiah. In due time, Cohn bought a stable, cleaned it out, set up some chairs, and began to hold his own gospel meetings. That was the first outreach of what was to become Chosen People Ministries. All started because a rabbi read Daniel nine.
Daniel's 70 Weeks
Tonight at 7pm we will prayerfully study the backbone of all Biblical prophecy – Daniel's 70 Weeks from
Daniel 9:20-27
. Don't miss out, and don't forget that SHinE Kids' and G.O.E. Teens will also be meeting at 7pm in our Family Life Center.
Come with the entire family, just as you are, tonight at 7pm.
Read more...
---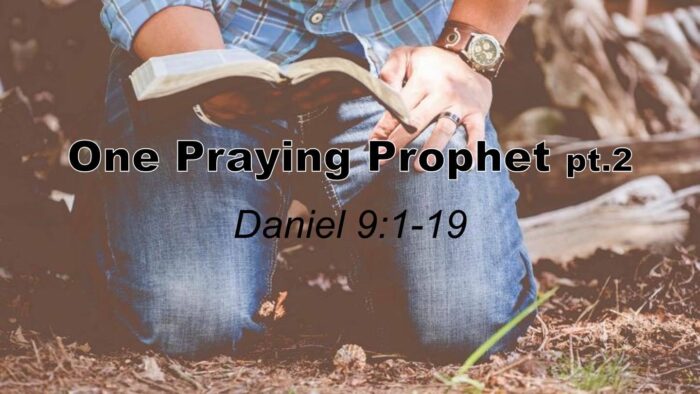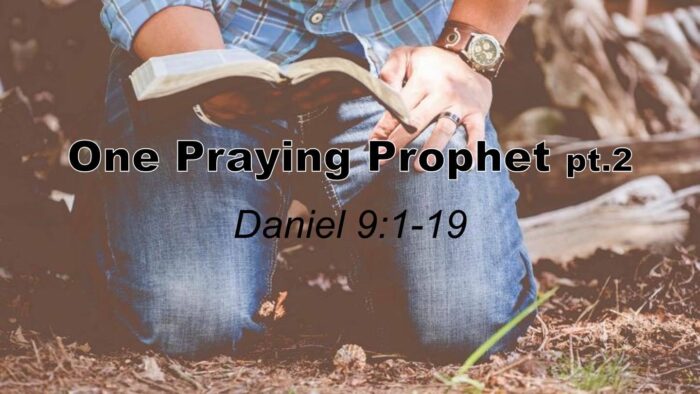 There is no doubt. We live in peculiar times. Between concerns for physical health, political agitation, and social deterioration, many are tempted to run and hide or stand swing a club. Neither option is optimal. Ask any pilot, like Bob Randolph for example, and he will tell you that when visibility is bad, you must fly by the instruments.
We must be confident in God's Word and continue in the same. Armed with a biblical perceptive we will remember God's past blessings which should stabilize us in present troubles and encourage us for future deliverance. In our Wednesday night study of Daniel we are learning from the prophet's pattern of prayer. Join us tonight at 7pm for this study, and for a time of praying together.
Also at 7pm, our SHinE Kids (grades K-5) and G.O.E. Teens (6-12 grades) will meet in the Family Life Center.
Read more...
---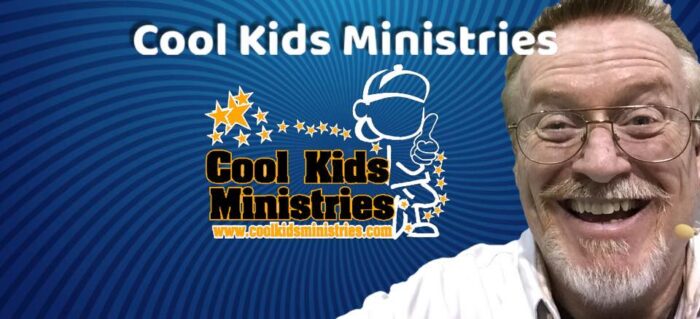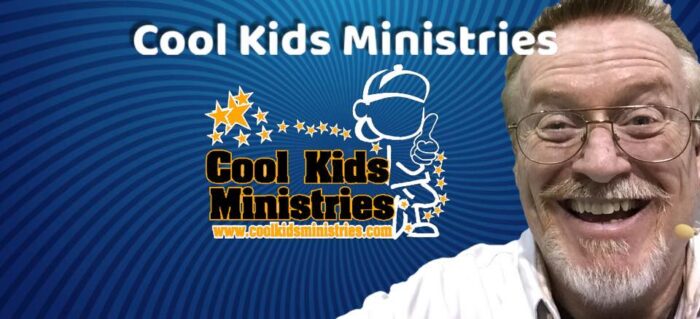 2020 has been one crazy year. We've been locked down, masked up, and a little stir crazy. Many things that we enjoy have been delayed or canceled altogether. At Bible Baptist Church we do not want vacation Bible school to be one of those things. Certainly, there are challenges to hosting a VBS at this time, but obstacles are worth overcoming. Obviously, our 2020 VBS will be different than past events. Still, we are excited to offer this ministry, especially during these times.
Something Different
Since everything about 2020 has been unusual, we have decided to break from our normal VBS format. Beginning Tuesday, August 25 and running through Friday, August 28
Cool Kids Ministries
will lead this year's vacation Bible school with a presentation of their Kidz Storm "Spirit." Each night there will be music, skits, puppets, magic tricks, illusions, scripture memorization, and lots of AWESOME Bible teaching from Bro. Steve Harney.
Date and Times
Our 2020 VBS will be four nights long. The dates are Tuesday, August 25 through Friday, August 28, from 6 pm – 8 pm each night. That time schedule will be strictly followed. We promise to get you out by 8 pm exactly!
Pandemic Precautions
We strive to provide as healthy and safe an environment as possible. Here are the safety measures that we have implemented and will follow each night.
We ask that you complete the online registration forms. Click on this link to fill out the online forms. This will decrease the number of people inside the building each night.
We ask that you walk your child to the door without coming inside, or let them enter without you. Since you have registered online, we will have your contact information if we need to contact you.
We ask that your child wear a mask as they enter and exit the building. This will be the hardest times to social distance. If your child does not have a mask, we will provide them with one. Masks may be removed once they are seated.
We will do temperature checks each night as they enter the building. Anyone with a temperature of 100.5 or greater will not be able to attend.
We will have hand sanitizer available at the door and throughout the evening.
We will have the seats spaced 6′ apart. Each child will need to keep their seat where it is placed. Bro. Steve has designed his program with safety measures in mind. While your children will be up and moving and playing games, they will be safely distanced.
We will sanitize each seat before your children arrive and after they are dismissed.
We require that children who are Kindergarten aged or below have a parent with them. We will have separate seating for family groups to sit.
We will have prepackaged snacks.
We will ensure that your children sanitize throughout the night especially before and after snack time and restroom breaks.
Our workers will be wearing masks when interacting with others.
We ask that parents wait outside for their children until called. They will meet you at the door.
Read more...
---